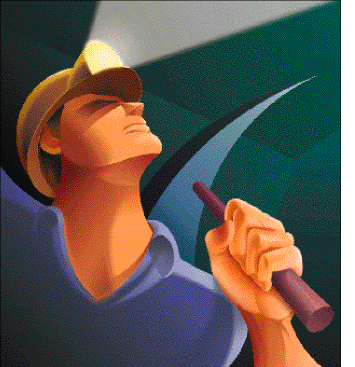 Several years ago, I attended a luncheon meeting at the Economics Club of Chicago in which Bill Gates spoke.
I had never heard Gates speak in person and I was ready to hear all about the newest software and latest technology.
Much to my surprise, all Gates talked about was what he called "data mining".
Gates thought data mining was important. He said that by analyzing data collected throughout your business, you could find revealing insights leading to improvement.
Although I did not fully understand the importance of data mining at the time, every year since then I have seen dramatic examples of how mining the data from your trading can lead you to important discoveries.
One dramatic example of what can be mined from your trading data was evidenced by a trader in my Professional Trader Mentoring Program.  He used the time off from trading at year-end to analyze the preceding year's records of his trades. As you might expect, he tallied his trades by month. He listed them by setup and he figured his winning percentages and losing percentages.
Lastly, he separated trades that matched his plan from trades that were impulsive and did not fit into his plan.
The impulsive trades were obviously the result of a temporary lack of discipline and nearly all of them were losers.
In his case, the lesson from looking at his past trades could not have been clearer.
Had he not done these emotional, out-of-plan trades, he would have more than doubled his result for the year. Instead of making a 15% return on equity in his trading account, he would have made almost 40% return on his trading capital.
Maybe, this was what Bill Gates was trying to tell us.
In terms of keeping records of your trading, I have two rules.
1. What you record must make sense to you; and
2. What you record must be relatively easy for you to do.
Too often traders get excited about what they can learn from their records and devise a recordkeeping system that is too complex and too time-consuming for them to continue in the long run.
This is why my advice is to settle on a minimum of what is important to record from your trades (i.e. number of trades, ticks per winner, ticks per loser, time in winners and time in losers).  Then, diligently keep track of those few items every day.

At the end of the year, say between December 19th and January 16th this year, you can go back and look over your year in trading and learn what can be learned.  With what you learn you can plan for the coming year, using the last year as a starting point in the improvement of your trading.
Why not make a New Year's resolution to mine the data from your trading?
Who knows, you could find some easily-implemented change to help you advance in your trading in 2011.
Bill Gates would approve.
If you are committed to making 2012 the year you breakthrough in your trading, you should join my Professional Trader Mentoring Program.
Teaming up with me, you can get the benefit of my 37 years of trading experience without having to take 37 years to get it.
Wishing you success in your trading,

Copyright © 2009-2011 by Jeff Quinto
All rights reserved

Print This Post