Jeff has been called "America's Preeminent Futures Trading Mentor"
Comments from futures traders in the Professional Trader Mentoring Program:
I am the first to be surprised by this outcome: I am doing something I could only dream of just five months ago. Andrea Cullati, Milan


"Every session is a great session and I learn something new and important!"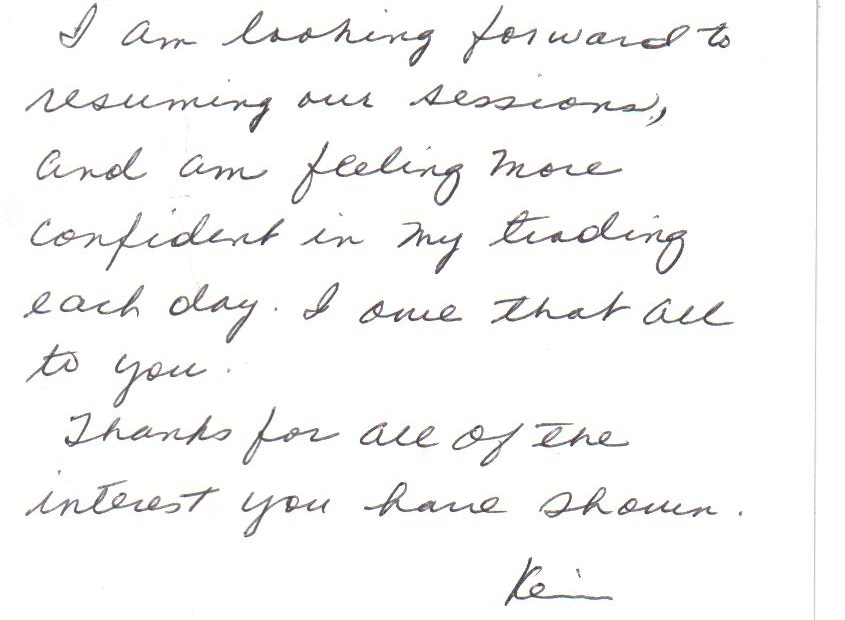 You are doing more than teaching me to trade. Thanks Jeff, you the man..
Hello Jeff: This is a quick note before the year is over just to THANK YOU for a wonderful experience in 2011 and to wish you and your family the VERY BEST FOR 2012!!!!. So far getting to know you and being able to work with you has been a great experience for me.  I am looking forward to continue working in 2012 and to keep in touch after the program is completed! THANKS one more time and BE WELL, Ernesto.
I want you to know that our session today was extremely helpful, as they always are.  Your market  perspective put somethings in focus in a very important way.  I thank you for all the interest in my improvement that you always show.  Take care, Kevin
Recently, we concluded the Foundations section of your Professional Trader Mentoring Mentoring Program.  During my quest for becoming a profitable trader I have felt motivated and optimistic on many occasions.  I can now say for the first time I feel as if I cannot fail.  This is profoundly different than just sheer excitement.  Due to the many safety mechanisms built into my new trading plan, there is but one way to go.  I look forward to our continued journey together.  Through your teachings and recommended readings, I have grown exponentially, as a trader, and even as a person in general.
This, I know, will be the first of many stages of success we will be sharing together.
Sincerely,   Jon P.
"Jeff, the foundation sessions in the mentoring program are phenomenal and an eye opener for me. Since starting the program, I find myself often amazed on how little I knew about trading professionally even after spending so many years trying to learn. I think yesterday's session on risk alone has saved me years of learning. Thank You!" Durga G, San Jose
It is unbelievable how all the principles that you taught me during our mentorship just keep ringing in my subconcious. It is really priceless especialy since I can get back to my notes that I made when we were together. Gregor Cotman, Slovenia
"I wanted to let you know how grateful I am for taking your mentoring program. You have helped me tremendously. Without your help I would still be at the same place, working backwards instead of forward. I would recommend your mentoring program to everyone. I really enjoyed speaking with you every day, going over the day's chart correcting my mistakes and telling me how to improve. Also, creating a trading plan with you and sticking to it has made all the difference Thanks again Jeff." Artur Pichler
"I just completed Jeff's program and without a doubt, Jeff has set me on the path to success.  What he taught me in three months would have taken me years to learn.  Jeff developed a training program that allowed me to continue with my full-time job while I learned to trade.  If you're like me and want to be a full-time trader someday, give Jeff a call! Mark, CPA CFA
Read Mark's complete story here
"I can only say that this very satisfying place in my trading journey would not have been possible without Jeff's experienced guidance, warm personality and wonderful sense of humor. He really has a great knack for working at one's own level of understanding and pace. Jeff, I am grateful for your teachings and look forward to our continued relationship." Chris S., Sonoma County
Read Chris' complete recommendation here
"I am grateful I picked up the phone and called you, knowing it was one of those times in my life when I needed a teacher.  I appreciate the work we've done to date.  Though we've had less than a handful of meetings, my confidence level is back to where it was, usually is, and should be.  Most importantly, I'm excited to be feeling as though I'll be able to be pull regular profits out of the market." Robert Hamburger
"I believe the most powerful aspect of Jeff's program is the one-on-one sessions (52 of them). Each day he reviews your trades. He zeros in on the real issue immediately focusing you on the best solution. Jeff has an amazing wealth of knowledge and experience in the markets. He is uniquely qualified as Coach and Mentor using this knowledge and keen market intellect as building blocks necessary to strengthen your trading skills. It bears repeating his wonderful sense of humor and humility is a breath of fresh air.
Thank you for a truly valuable program,   Barry N. Crockett"
Read Barry's entire recommendation here
"Is… Jeff's Mentoring…worth the price? I think the price is too low.
If you are thinking about whether Mr. Quinto should be your mentor and if he can help you, please read his Bio. It is really amazing. I think one sentence from one of his e-mails says it nicely: "You can get the benefit of my 37 years in futures trading business without taking 37 years to get it."
Gregor Cotman, Slovenia (read Gregor's complete recommendation here)
"18 months ago I found myself in a drawdown that I was struggling to turn around. Jeff came to my rescue and provided the focus and challenge needed to get me back on the rails. As a veteran trader I was skeptical that someone else could do this for me – but he did! He made me answer fundamental questions about my trading in order to revitalize my trading plan. He also made me simplify everything, making life much easier and hence making my plan easier to stick to. Is his mentorship worth the money? Well, I have been profitable every single month since, so I'd say it was a darn good investment!" Simon Townshend, England.
See Simon's year-end 2008 comments here.
Jeff gave…me a framework to work from, but it was just a starting point, from which he helped me discover and craft a unique trading strategy adapted to my personality and way of looking at the market.
More than teaching me a system, Jeff helped me understand trading and the mindset that goes with it. This is the most valuable thing for a beginner, and it helped me develop quickly and avoid a lot of costly mistakes.
Now, I am consistently profitable, and the pain is gone – trading has become fun and rewarding. This could happen in 8 months thanks to Jeff's guidance and dedication. I still have a lot of work from here, and a lot to learn from Jeff.
William from London
To read William's complete description of his experience using Jeff as his Mentor click here.
It is quite remarkable for me to see all the effects from the process you facilitate so effortlessly and skillfully. But now as I experience it, it all makes sense. You are like a rock, grounded in the most important principles which ensure intelligent trading. So no matter what I could throw at you, you could always logically frame my perspectives against the back drop of simple trade management principles. Little by little I started to see a vastly expanded set of variables as a framework for my own good and bad habits in trading. Somehow, out of this process, it becomes much easier to just drop anything which is too questionable in its value. It appears you are really good at guiding the horse to the vicinity of the water, but instead of trying to make him drink, this horse can't wait to dive in the water. That reflects great teachership. Because most likely anyone could tell me (probably like most traders) anything, but I would never get it, unless I work through it for my own conviction. Your skill and experience mentoring, drawing out the discoveries, seems to result in the effortless accomplishment of all the objectives. Thank you so much for your wonderful guidance, support, and sharing of so much.
John B. (to read John's complete recommendation, click here)
"I appreciate the qualities that Jeff brings to the role of trading coach. There are coaches who have proven success in the pits as well as the screens. However, being able to distinguish the behaviors that make a successful trader and being able to communicate that knowledge are rare qualities that Jeff offers traders. His style is completely professional, so the critiques of my trading development are completely objective and I believe that's why I'm evolving as a successful trader. Also, he's available as you need guidance. Every coaching experience I've had with Jeff has been positive…" – Rob Rogers
"For several years I have searched to build a solid longterm career in day trading and working from home. It was impossible without a trading mentor, someone knowing the path. Jeff is this kind of crucial help that I found for my success inside the elite world of the day trading. Jeff knows every step of the process because he was there too and he is for me an important element to my success in this hard business."
Franck Levrier
"Jeff has the unique ability to focus on my strengths and challenges as a trader. He provides useful tools, such as detailed analayses of my daily trades, along with my own collaberation and study, to focus on areas for my understanding and growth. His positive attitude and market knowledge have helped to advance my abilities as a trader. Jeff is a natural as a mentor."
Steve
Chicago, IL
"Jeff has been instrumental to my development as a trader. Together, we established a workable trading plan which I then put into action. Everyday we would review the day's trade and Jeff would provide invaluable advice, feedback, and insights gained from an entire career spent trading and training traders. Jeff has helped me tremendously in smoothing out and shortening my learning curve."
Sincerely,
Marc Ottawa, Canada
Jeff's brings on organized approach to market entry and trade management , working with Jeff on a trading plan and realistic goals has helped me build a solid foundation." Tim Fontana, WI
"I find your mentorship to be invaluable. Although you can provide a trading method if required I find the most value comes from the help and guidance you give to the trader in developing their own style. By beginning with the formulation of a written plan you force the trader to address a lot of issues that the majority of traders never do. Without this the trader has no style. I find the daily one on one discussion of the previous day's trades extremely useful in refining the plan, highlighting deviations from it, and correcting trading mistakes. In short in forces me to constantly think about and trade the plan. Through this constant accountability I am finding my discipline as a trader to be growing as well. As a result result of your mentorship I am becoming more confident, learning to think more for myself as a trader, and thereby becoming a more consistent and successful trader."
Scott Hong Kong
In my opinion, it is very important to having a trading coach/friend who is willing to critique the trades you put one and is also willing to listen to you.   For me, it adds a level of discipline since I now have someone that I am accountable to in a world where independent traders are not accountable to anyone but themselves (as long as they operate within the rules of the exchanges).  Another layer of discipline comes when a trader marks his trades on a chart and he/she can at a quick glance tell if he/she is following his/her own trading rules.   A coach who knows how you trade is helpful here, as well.   Now as a trader, you would be sending your trading activity to some who is willing to call you on trades that don't seem to fit your trading pattern.   It is my opinion that a trader will be more likely to follow his/her own trading rules if he/she knows that he/she will be sending these charts with his/her trades on it to an experienced and knowledgeable trading coach.  Jeff, you are the perfect trading coach with your years of trading experience, your years of coaching traders, and your years of being a great person to talk with.
Sincerely, Rob Wilkes
I would like to begin by quoting an oriental proverb " when the pupil is ready the teacher will appear". In June of 2003 I was 1 year into my self taught journey as a trader and I thought I should try to find a job with a trading firm to learn how to trade. I set about gathering a list of all the firms I could find from the various exchange sites. One of them was Altea. I emailed my CV to them and 29 other trading firms.
I got only one reply and that was from Altea (from a gentleman by the name of Jeff Quinto), his reply was " give me one reason why I should continue this conversation". Wow!!!! Ouch!!!! I replied quoting how I traded the emini S&P's using technical analysis. However I did not get a reply but having heard lots of stories about how harsh traders can be, I thought great this guy must be really picky, and so the firm must be really good. Wouldn't it be great to be trained by them I dreamt?
Fast forward to 2006 I was now 4 years into my journey and after many applications, I had been accepted by a prop firm. I was months into their programme when I got an email from a gentleman by the name of Jeff Quinto. He asked how I was doing and if I was still trading. He also explained that he had a mentoring programme for traders and if I was interested I should let him know. Initially I did nothing about the email since I was already employed as a prop trader, and also I was a bit sore from our last exchange. As fate would have it our firm received copies of trader monthly, so there I was reading the latest edition during my lunch and who do I see in the magazine, a gentleman by the name of Jeff Quinto.
January 2007. I had left the prop firm I was with and thought of Jeffs email and his article in trader monthly, so I sent him an email to find out about the remote mentoring programme. He replied, we spoke on the phone, and I joined the programme in May 2007.
I am writing this now in September 2008 and I am now 6 years into my journey, and would like to say THANK YOU Jeff for all the time and help you have given me in the last year and a half. You have helped me to gain an incredible amount of knowledge about becoming a consistently successful trader and showed me how to deal with the ups and downs that come with this amazing profession. It was worth the wait, I was ready and you showed up.
AAF, London UK
As a mentor I've found you to be outstanding. You are unusually patient and optimistic. That is very helpful when trying to learn a difficult and frustrating skill.Also, you stick to a schedule of regular contact with traders to review their progress and provide guidance.  You've had experience in all aspects of the futures business and have provided direction on how to navigate the myriad of information in the futures industry. You create outstanding articles for the web site that are so good I think you could create a book. Reading the articles increased my exposure to the futures industry.
One reason I liked the TTP seminar is that it summed up the mentor program and gave me a trading plan that I had in my hands uniquely mine I can review and improve every day. In fact I won't seriously trade new set-ups until I can incorporate them in my plan.
You have integrity and always support what's best for the trader.  In some ways you're like a nice drill sergeant, teaching his recruits how to survive on their own in trading. You make traders so that they can develop their own set-ups. Many so called mentors hand you a book and some software and say have at it. They don't coach you through how to enter, exit and successfully trade. What you try to get us all to do is develop our individual vibrational connection to the market by sharing how you did it. Your support and optimism and belief that I could eventually make it has kept me plodding through the dip when no end seemed in site.
You believe in people and strive to create successful traders.  You have a great sense of humor which really helps when going through the learning process.   Also, you aren't critical; you have a nice way of getting your point across.
Thanks for your mentorship,Bob
Robert T. Eggleston
See Bob's year-end comments here.
"Becoming a successful futures trader is as hard as becoming a successful surgeon or a professional athlete. And like any trade, it is important to have as many factors as possible working in your favor when you pull the trigger to pursue this career: the best computer equipment, lightning-fast order-entry, sufficient capital, a strong knowledge of the markets, a solid trading strategy and, probably most important of all, the right mindset. Even though I have worked in the financial markets for over a decade, Jeff Quinto's Mentoring Program has been essential for me to developing this right mindset. Jeff leverages the insights, experiences, successes (and failures) of the dozens of traders he has worked with during his career to distill the most essential lessons of trading. This has enabled me to avoid many of the pitfalls that bedevil beginning traders. More importantly, Jeff has emphasized again and again how success in trading is a continuous journey of discovery and not simply about finding the right indicator. This is probably one of the toughest things to understand about trading, and because Jeff himself has been involved in futures trading for over 35 years, he provide this needed perspective when the markets become challenging. .. Honestly, I can't imagine where I'd be without this program."– M.S., Chicago Illinois