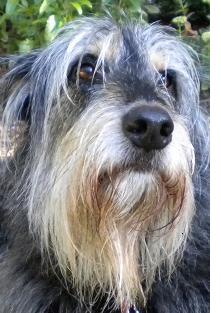 Everyone I know who owns a dog thinks that their dog is the smartest dog that ever lived.
They think their dog remembers everything that happens.
Take my neighbor's dog Fritz as an example.  Fritz is smart, but his short term memory is hazy at best and his long term memory is almost nonexistent.

The markets have a memory just like Fritz.
The more in the past a price is, the less likely it is to be helpful in making trading decisions.
However, just like a dog owner's belief that his dog remembers things, many traders memorize past prices in the hope that the market will repeat itself in the future.
Traders have told me triumphantly that the market bounced off last Tuesday's lows or rallied to Friday's high.
Maybe it did.
But is this occasional return to a past price really helpful in making trading decisions?
After all, there are so many supposedly important price points in the past that the market is likely to randomly bounce off seemingly important points again and again.  But, how can you know which prices from the past are important and which are not?
My answer is that looking too far in the past for indications of where the market will head is wasted energy.
Instead, I believe that the market moves in waves.  It rallies and retraces and rallies again until the rally exhausts and it sells off, retracing again and again.  This is the way the market moves.  It is more likely to respect recent support and resistance than it is to care about price levels from the past.
No offense to Fritz, but the market has the memory of a dog.
Copyright
©
2009-2011 by Jeff Quinto All rights reserved

Print This Post