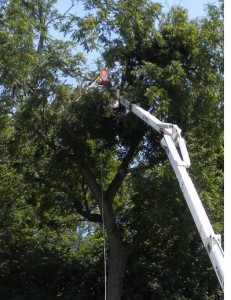 I asked Andre what could be learned from the recent lightening and wind damage to a giant walnut tree next to my house.  Truth be told, I wanted to have an excuse to use the photo-shopped picture at the left.
Thanks Andre.
"The market is like the weather, unpredictable and sometimes very volatile. The tree represents an overall position in the market and the branches, contracts in different markets. No branch is the same on a tree and similarly and, hopefully, the contracts are in non-correlated markets.
The tree is a beautiful tree providing shade for the trader and his house and it took years for it to grow to its current size.  The "house" is like a trading account. The branch breaking off and hitting the house is a small hit on the account when increased market volatility goes against you. Of course this small hit is from the market's perspective, but to the trader it feels much bigger.
The market gave its first warning.
So, you trim back your position just like you trim back the tree. However, the weather(the market) being a fickle mistress, decides to get even more volatile and now another, even bigger bough falls not only on the trader's fence, but also on his neighbour's fence. The fence represents the hedge protecting a market position and therefore an account.
The market gave a second warning, this one more obvious.
The trader and his neighbour decided to join efforts to cut the tree down completely. This is like the trader and his mentor reviewing the risk in the overall position, checking that position against the "house" and deciding that it's better to exit the entire portfolio and go to cash, rather than lose the account ("house"). This is vitally important, especially when you are trading other people's money.
Even though a tree takes time to grow, is beautiful to look at and took a lot of effort to nurture, it is important not to get emotionally attached to it. Capital preservation in volatile markets must include a) non-correlated contracts b) position sizing c) money management d) hedging and finally and most importantly e) exiting the entire portfolio when market conditions dramatically change, before the account gets badly hurt!
The beauty of doing this is that cutting the tree down to a stump, shows you opportunities that you may not have seen previously. Growing another "tree" should not be difficult provided that you have the basic elements:
a) the seed – a good theory of trading
b) the soil – a well structured logical and simple trade plan
c) the fertiliser – determination that you will not fail
d) the water – a good mentor who can expose your strengths and weakness and help you capitalise on both.
e) the gardener – you looking after yourself and your trading business
It's better to have a couple of broken branches and a tree stump with your "house", than no tree and no house at all.
Do not let winners turn to losers and don't go it alone. Even market wizards have the wisdom to know that despite their prowess, having a mentor increases their odds of sustained and consistent success."
Best wishes,
Andre from the UK