Accuracy would seem to be a good thing.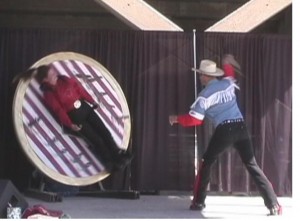 In many professions, it is the most important thing.
(see picture at left)
However, in trading, over-reliance on accuracy can actually be destructive.
A new mentoring trader started with me last week and he showed me a strategy he had learned that generated 80% winning trades.
80% winning trades – that seems too good to be true.
Could there be a catch?
As we discussed the strategy in greater detail, he showed me the setups which seemed very reasonable – in fact the setups were quite clever.
But, then, he told me about the risk/reward of the trade and I realized that this could never work in the long run.
The way the strategy attained 8 out of 10 winners was that it employed a 4 tick target and a 12 tick stop loss.
In other words, the strategy would never give more than a 4 tick winner, but was willing to stand a 12 tick loss.
That is exactly the opposite of what I know works in the long run.
But, the problem with this strategy is not just the backwards risk/reward ratio.
The problem is that even though the strategy gives a lot of small winning trades, it will never generate meaningful profits and, importantly,  it does not have enough of an edge to overcome anything that goes wrong.
The new trader thought that his inability to make money using the strategy was because he was not sufficiently disciplined or skillful.
In fact, the problem was not him. It was with the strategy which relies on paying him small amounts when he is right and taking away large amounts when he is wrong.
Successful trading comes from putting the probabilities in your favor, not from being right all the time.
The best strategies are the ones that exploit the market when they are being rewarded and lose as little as possible when they are not working.   Successful strategies take advantage of the power of unequal profits and losses where profits end up being dramatically larger than losses.
Also, a strategy with only a fixed target, in this case a small one, assures that you never participate in the big moves.
You are just taking the chump change and letting the big moves happen without you.
I show traders in my Professional Trader Mentoring Program and my Express Program an exit strategy that leaves open the possibility of big winners because the market will sometimes deliver profits beyond your expectation if you are set up to receive them.
After all, if you are only asking for 4 ticks, the market will never give you anything more than that. However, if a portion of your exit strategy leaves open the possibility of opened-ended wins, then you are likely to have winners that pay for a lot of small losers not the reverse.
Don't get me wrong, I understand the appeal of lots of winners.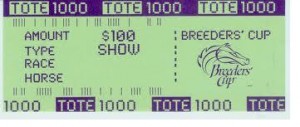 When I go to the race track, I bet on the horses to show so that I can cash in lots of tickets. I think it is fun to turn my ticket in at the window for my winnings.
However, I am not confused in thinking that this cashing in of tickets is making me any money.
In trading, real money comes to those traders who put the odds in their favor and have winners that are dramatically larger than their losers.
Accuracy is not a bad thing.  It just isn't the only thing that matters in trading.
Wishing you success in your trading,

Copyright © 2011, all rights reserved

Print This Post
Feedback from the above:
As far as the 80/20 trader goes, one doesn't need to even look at it from a trading perspective or methodology when a simple business plan break-even analysis shows its flaws.

If he's trading the ES, then he'd net around $3,600.00 profit from the 4 tick winners if round turn commissions are 5 bucks. And he'd lose about $3,100.00 on the 12 tick losers using the same commission rate for a pre-tax profit of $500.00. Set aside 20% for the Feds and 5% for the State of Illinois and you're left with $375.00.

That's enough to cover some of the fixed costs associated with running a small trading business but it won't cover them all.

And you want to talk about risk/reward? The ES is trading in the 1330/40 range today so the notional value is over 66 grand. 100 trades in this price area is well over 6 million dollars risked for a profit of only $375.00? That doesn't sound too appealing to me.

I'm glad he found you so you can set him straight."   Geoff G., Lombard
As my pal Andre said today,
" The journey through accuracy is an expensive one!"