At last week's $aturday $trategy $ession, two traders in my Professional Trader Mentoring Program talked about their path from the foothills of trading to Base Camp One.
The Mount Everest analogy is meant to describe the journey from getting serious about trading, the foothills, to the start of professional trading, Base Camp One.

The first trader who talked about his journey to professional trading was Khasan from Moscow. Khasan presented a series of spreadsheets that depicted the steady improvement in his trading so far this year. He progressively increased his daily profit goals as he increased the tick count of the chart he uses to trade Eurocurrency.
He started the first of the year with a relatively fast chart, a 233 tick chart, and increased the tick count of the chart he used until today; he is trading with a 987 tick chart.
In the process, his performance has improved nicely and he is doing fewer, but significantly more profitable trades.
Khasan's style of trading is his own variation of the retracement trade I teach traders in my Professional Trader Mentoring Program.
It is important that Khasan has taken my starting point and made his own path, his own variation. He has gone from copying me to developing his own rational strategy that reflects his personality, his experience, and his beliefs on how the market operates.
The results of his progress are gratifying to Khasan, and to me.
_____________________________________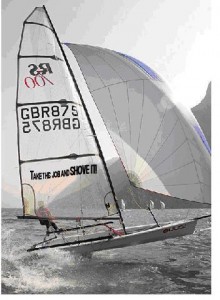 The second trader to speak at last week's $aturday $trategy $ession was Guillaume who is currently trading in Carnac, France on the coast of Brittany.
When he is not trading, he sails an extreme sailboat – sort of a very large sail on top of a very small boat.
Guillaume and I have worked together over the past three years. 
In the beginning, we set up the intellectual and structural foundation of his trading. 
Then, we built his skills and understanding of trading to the point that he could quit his lucrative day job a year ago. 
He, now, has been trading full time for a year.
I am particularly proud of Guillaume as I have seen him grow as a trader. 
I fully expect that Guillaume's name will one day be well known among serious traders.
Guillaume gave an insightful presentation on the journey he has taken in the last year as a full-time professional trader.
He talked about the challenges he has faced, his failures and his successes.
Interestingly, he talked about the importance of humility.
At first blush, humility would seem to be the last thing a successful professional trader would need.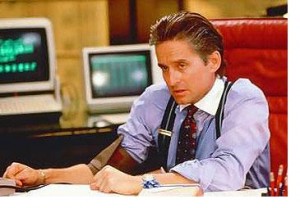 After all, was Gordon Gekko humble?
I think not?
However, Gordon Gekko was a fictional character. Guillaume and other successful traders are real.
In the real world, long term success is dependent on a healthy dose of humility to understand that you will not always be right.
You need to accept that many of your trades, no matter how skillful you become, are going to be wrong. You need to willingly, and quickly, take your losses and always be ready to exploit your gains, when your trading is successful.
The fact is that you need to mature in your trading, like Guillaume, until you are at the same time both confident and humble.
I remember when I traded on the floor and I thought that I must be getting taller because I seemed to be able to see things that I could not see before. I even imagined that I could see behind other traders. The fact was that I was not growing in height. I was growing in understanding of the markets. It just felt like I was getting taller.
Khasan and Guillaume are getting taller, not in height, but in stature and in understanding and I am pleased to have helped them as they grew.
The path from the foothills of trading to Base Camp One is long and it is hard.
But, for those traders who are willing to put forth the effort in a planned structured way, the rewards, both monetary and personal, can be significant.
Just a reminder that in three weeks, on June 25th, we will be holding our Century of Trading seminar in Santa Monica. Check it out at Century of Trading.com. Even if you cannot attend, you can get six hours of videos of the best Simon Townshend, George Kleinman and I have learned in our 100 years of trading just for the price of admission.
Wishing you success in your trading,

Copyright 2011 by Jeff Quinto, all rights reserved

Print This Post