Can you picture yourself as James Bond in a tuxedo sitting at the Baccarat table at the casino in Monte Carlo with a beautiful girl by your side?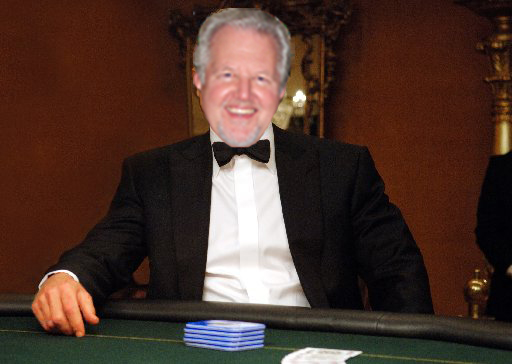 I can.

The first time I was ever in a casino, I wanted to be just like James Bond.
Of course, I was in Reno, Nevada (the biggest little city in the world), not Monte Carlo.
I did have a beautiful girl by my side (my wife) and I had invested five minutes, or so, reading an explanation of Baccarat in the little pamphlet I found on the table beside the bed in our hotel room.
So, I was ready.

My wife and I agreed to limit our investment in my pretending to be James Bond to a few hundred dollars, which we split between us.   We arrived at the Baccarat table well-dressed, confident and ready to break the bank at Monte Carlo – I mean, Reno.
As it turns out, I should have invested more time reading the pamphlet explaining Baccarat because, when I sat at the table, I did not have any idea what I was doing.
However, through no fault of my own, some of my bets seemed to work.
My wife was similarly winning some of the time.
After what seemed like a long time and many winning and losing bets, I was nonetheless out of chips. My wife gave me a few of her chips and we played for a while longer until we were both out of chips.
I suggested we adjourn to the bar so that I could get a Martini (shaken, not stirred).
At the bar, my wife opened her purse and I saw that it was filled with chips.
Unbeknownst to me, she had taken a few chips out of each winning pot and stowed them in her purse.
I was elated.

I was indeed James Bond, not some chump from the suburbs.
We cashed our chips and went to a late show where we saw Alan King.
Being smart about money in trading is just like that.

You need to take your profits off the table and play with a set amount of money.
When your account is ahead by some predetermined amount, take the money out. Trading with a larger amount of money than you planned can cause you to trade with less discipline.
Do not leave more money in your account than you need to reasonably trade.

When your account is ahead by $1,000, $5,000 or whatever you decide, give your broker a call and ask for the overage to be sent to you. Only increase the money in your account in a planned well thought-out basis and only when you are ready to increase the size you are trading.
Regularly taking money out of your account may not turn into James Bond, but, in my experience, it does help in getting the girl.

If you would like to take the gambling out of your trading, check out my Professional Trader Mentoring Program at www.professionaltradermentoring.com.
Wishing you success in your trading,


Copyright © 2009-2012 by Jeff Quinto
All rights reserved


Print This Post
Attention – this just in: