A popular topic in trading circles is the use of multiple timeframes.
Lots of traders like to use more than one timeframe to support their hypotheses and used properly such techniques can have considerable benefits.
However most proponents use relatively similar timeframes and in my opinion in doing so they are missing the true value of such an approach.
I like to use truly disparate timeframes, ones that are radically different to each other.
Copper last week gave us a timely example of this, so let's use a real life example to illustrate the power of this often misunderstood concept. We will start with a daily chart of copper…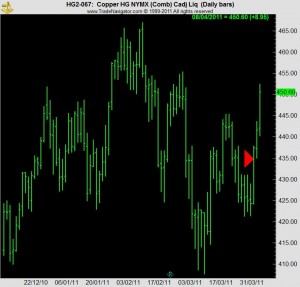 Our strategy gave us a buy signal at 435 shown with the red arrow, which we duly entered and we are still holding the bulk of the open position. Actually our own buy signal was in fact supported by a more traditional technical feature on this same daily timeframe…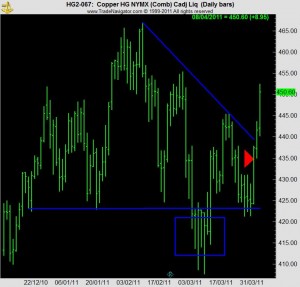 We can see an attempted downside break from the longer term chart formation a few weeks ago. A failed breakout can often lead to a much more impressive assault on the other side. So in this case the breakout to the upside which came the day after our buy signal could be expected to perform well.
Once we had a daily buy signal its next a case of trying to limbo in at the best possible price. To see this we drop down to an hourly chart, obviously a much smaller timeframe…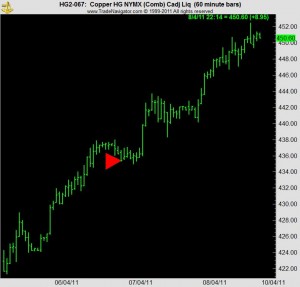 After the daily buy signal we actually entered overnight with a resting order as shown by the red arrow. What can we see here on this hourly chart? Here we have a simple little bull flag providing a nice lower timeframe entry into our main daily setup.
Sadly these things don't set up perfectly as frequently as we would all like, but we are regularly talking in the chat room about looking for hourly entries into longer term positions.
Why?
Think about it from a Risk/Reward perspective.
If you can occasionally combine the risk of an hourly trade with the reward of a daily trade – this is something to be played for any time such an opportunity shows its face!
Finally let's look at the weekly copper chart…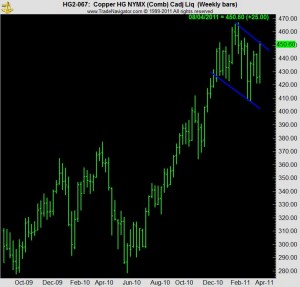 Oooh! Now we have a weekly bull flag and with a little luck this may be ready to start kicking in for us.
Only time will tell.
But what I do know at this early stage is that an hourly entry into a daily set up with even the faintest possibility of capturing a weekly move – this is trading utopia and is the sort of thing that all professional traders should always be on the lookout for.
I know many traders like to use combinations of 5 minute and 15 minute charts, or hourly and 120 minute charts, etc. While there is nothing wrong with that per se, the real advantage of multiple timeframes is to be gained from the correct use of radically different timeframes.
We will be exploring the power of disparate timeframes at our Century of Trading seminar in Santa Monica on June 25th.  I will hope to see you there.
With best wishes,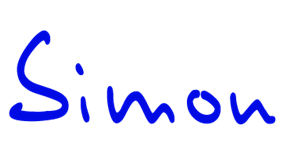 Copyright 2011 © Simon Townshend Ltd.  All rights reserved.
Jeff's note:  I am not a proponent of using multiple timeframes in the way most traders use them (i.e. comparing similar timeframes).   However, Simon's idea of using disparate timeframes makes sense to me.  You can learn a lot from Simon's unique trading ideas at the June 25th  Century of Trading event.  You can ask Simon anything you want during the Q&A session at the end of the day and he just might tell you something really important.