Last time we discussed the theory of climbing back out of a dip having avoided the bulk of the drawdown that might have otherwise been experienced.  During the recovery the aim is to increase size quickly in order to further capitalise on our change of fortune.  This was the simple model we were working from: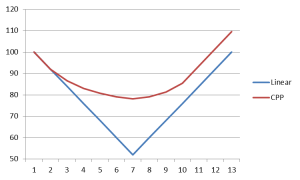 This time I want to discuss some of the practical difficulties we have to face when translating this theory into reality.
The main problem we have is that the simple clean curve we see in theory is a very crude approximation for the noisy line that we will actually experience in real life.  The second problem is that we need to be able to identify when the bottom of the dip has actually been formed in order for us to be able to move from reducing size to increasing size.  If we can find a way to deal with these two factors, we can come surprisingly close to matching our theoretical model.
Identifying your bottom!
Let's deal with identifying the bottom first as this is the first thing that we have to concern ourselves with in practice.  In our model you should recall that during our first recovery month we are trading exactly the unit size as dictated by our capital preservation plan in the previous month.  In other words we don't have to worry about whether we have turned the corner or not during the month in which we actually do turn the corner.  We simply know when this has happened by virtue of having a profitable month.
Next we have to deal with the noise issue.  What if our profitable month was just a blip, just a bit of noise on a continuing downward path?  That's a serious concern in the real world that we have to be prepared to deal with if necessary and here is how to do it.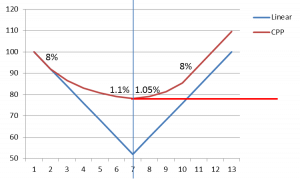 When you had your first profitable month you were trading with a tiny monthly risk of just 1.05% of capital, having cut back from a starting point of 8% at the previous equity high.  The line in the sand is the equity low made at the close of the previous month and this must be defended at all costs.
The rule is simple – as you pull away from this line it becomes increasingly safe to increase trade size.  However should you head back down towards it again you have to be prepared to cut size again were you to reach that equity low again.  At the equity low, you immediately reset your trade size to whatever you were using during the 1.05% month, and reapply your capital preservation plan from that point going further down below that line.  The safety net provided by the capital preservation plan takes precedence over everything else.
Increasing size
OK, so that deals with the worst possible outcome, which in reality is not bad at all.  So let's now consider how we operate once we do pull away from that equity low.  Our objective is to double our size each month as we climb back out of the hole, until our original unit size is reached, equating to 8% monthly risk in this example.
So after the first profitable month (the 1.05% month), you could just move straight up to 2.11% which is next step up on the theoretical model.  However this is where our practical noise problem has to be considered.  In simple terms you have a month's worth of profit under your belt so far and this is the buffer between where you start the next month and that line in the sand.  If you double your unit size in one hit, you effectively halve the size of that buffer.
Is that what you really want to do in practice?  Probably not.  As you pull further and further away from the line in the sand, in becomes easier and easier to increase size and the additional risk becomes proportionately less.  But in these early stages of recovery we need to be more guarded in practice than in theory.  So here's what we can do…
Split the month into 4 or 5 weeks and increase a little bit after each profitable week.  This is a tactic that will effectively preserve that buffer you have whilst achieving the goal of increasing size.  So for example if your previous size was say 6 contracts, don't go straight up to 12 on the first day of the month, but maybe go to 8. As long as your first week at 8 contracts ends in profit go up to 10 for week 2.  If your first week wasn't profitable be pleased that you were trading 8 lots and not 12s and stick at 8 for the next week.
If week 1 was positive, go up to 10 in week 2.  If week 3 is positive move up to 12 and maintain that for the remainder of the month.  At the end of the month you ended at the desired size but avoided risking your buffer unduly.  So yes in practice doing this costs you a few more days than in the noise free theoretical model.  But so what?  You just endured a 6 month drawdown and pulling away from that line in the sand as smoothly as possible is far more valuable than a few extra days in the overall scheme of things.
Now you have 2 months of buffer profits under your belt and you are well on your way to recovery.  Until you make new equity highs always keep that line in the sand in place and be prepared to act accordingly.
Simon Townshend
Copyright © by Simon Townshend, all rights reserved