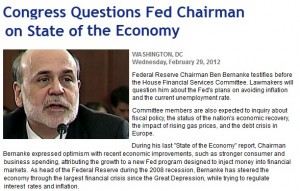 Twice a year, the Federal Reserve Chairman gives a report to, first, the House Banking Committee and, then usually the next day, to the Senate Banking Committee.
This testimony was started during the Carter-era as part of the Humphrey-Hawkins Full Employment and Balanced Growth Act of 1978. It continues twice a year, two days in February and again two days in July. These are low-probability days to trade as the market jumps every time Bernanke says one thing and, then another.
My advice is that these four Humphrey-Hawkins days are good days to take off from trading guilt-free.